In this interview on The Logros Show – in association with The Greater Manchester Chamber of Commerce – Lee Dinsdale talks to Stacey Copeland. Stacey Copeland has represented her country in two sports, football and boxing. As an amateur boxer Stacey won a European silver medal and has now turned professional; last year she made history when she became the first ever British woman to win the Commonwealth title. In 2017 she founded Pave The Way, a project which promotes gender equality. Stacey delivers talks in schools, communities, and businesses, and has spoken at European Parliament and the United Nations about women in sport. She presents a weekly show on BBC Radio Manchester and recently won the \'Emerging Talent\' award at the O2 media awards for presenting the \'Paving The Way\' series on Granada Reports.
Interview with Stacey Copeland at Unity Radio – The Real Sound of the City.
Lee: This is Unity Radio – The Real Sound of The City. We are nine today. Happy birthday Unity Radio. We are broadcasting live from Media City UK on 92.8 FM, DAB and on-line. Today in the studio we are delighted that we have Stacey Copeland. She has just come in, how are you doing Stacey?
Stacey: Good thank you very much. I'm a bit windswept but glad to get here finally.
Lee: Okay so a bit of an intro. In 2017 Stacey set up 'Pave The Way' which is a project which promotes gender equality. Stacey delivers talks in schools, communities and businesses and has spoken at the United Nations and European Parliament about women in sport. Stacey also presents a weekly show on BBC Radio Manchester. She recently won the Emerging Talent award at the O2 Media Awards for presenting her 'Paving The Way' series on Granada Reports. So we have lots of questions. Stacey was an amateur boxer and won the European Silver Medal and has now turned professional. Last year she made history as the first ever British woman to win the Commonwealth Title. Congratulations. Let's just get into the commonwealth fight. Can you describe the night, can you remember?
Stacey: It was amazing. I'll never forget it, even the whole way it came about. It was a big risk really because you are going way out of your comfort zone. There are four African judges and boxing can sometimes be known for choice decisions with judges. We had a change of opponent and she was a bit of an unknown opponent. Unfortunately the opponent I was originally meant to fight had a car accident so was unable to fight. So the other person stepped in and she was ranked more highly above the original opponent. We had a little bit of video footage, but not much so on all accounts really it was going into the unknown. It was a fantastic week and I had always wanted to go to Africa but I presumed it would be after boxing. To combine it with my sport was brilliant. We got to visit loads of schools that week and animal sanctuaries. It was an incredible experience. We had had a difficult week, they lost my luggage there was lots of problems along the way but everything got sorted in the end. On the night I fully believed I could do it with my coach Blain Younis behind me. We had worked so hard. We had been in the climate chamber in Manchester and worked really hard. I just felt very well prepared and ready. Of course you can't prepare yourself for the occasion itself and the nerves. Over a hundred million people watched over there because it was on their free sports channel. There is a massive amount of pressure on you. You can never really prepare for the nerves because they are only there when they are there. In terms of the fight itself I was well ready.
Lee: What do you have to go through, to prepare? What kind of a training regime do you have coming up to the fight?
Stacey: It takes over your whole life to be honest. I'll train twice a day. At that time I was working full time at the school. I'm down to three days now because I've got a lot of other commitments at the minute. So at the time I was up at six every day, training in the morning, doing a full day's work, then going in the gym and doing twelve, thirteen or fourteen rounds sometimes. Sometimes you would train in the private chamber, which is to do with the altitude and the heat. So it was tough, loads of rounds of sparring. Your food has to be right and your supplements, everything. Nothing on its own makes a massive difference but when you factor everything in, like wearing your compression stuff, having recovery drinks, it accumulates and amounts to giving you those tiny little margins of progress for improvement.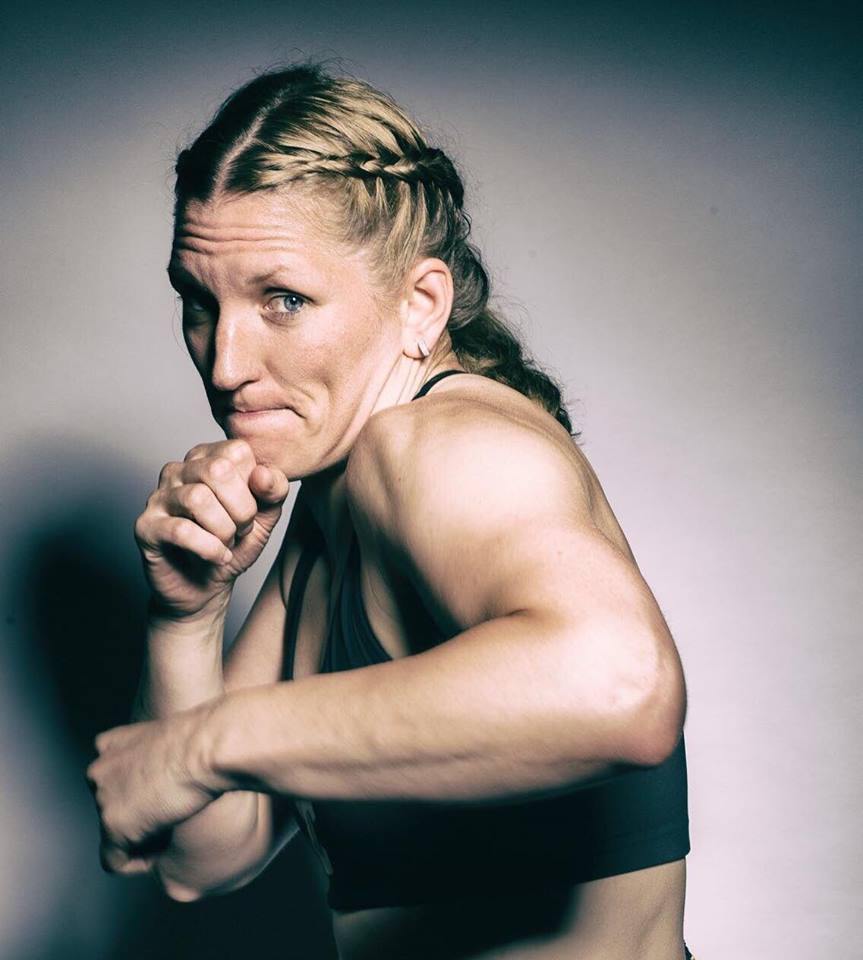 Credit – Nigel Maitland
Lee: You won on points. Was it a unanimous decision on points Stacey?
Stacey: Yes.
Lee: I know you are from Manchester. What was it like in the early years? Tell us, how did you get into football and into boxing?
Stacey: Football, I don't quite know how that happened really! I just remember in the playground as a kid, I just wasn't interested in what the girls were doing. There was a massive divide. All the boys almost were playing football and all the girls were doing something else. The girls were doing things with elastic bands and making shapes out of them. Hopscotch, having weddings, marrying each other! I thought this just isn't for me. I just wanted to join in with the football. I don't know why, I was just pulled towards it and got involved that way. So it started just playing in the playground with all my mates. Then I played for the primary school team. In my first game one of the other parents who was a coach, said 'that's a girl' she can't play. They made me leave the pitch. It was horrible. I went home and said to my mum, right cut my hair short. She did that so I could pretend to be a boy and play in a team. That led to a few problems with people saying, why do you want to be a boy? I never wanted to be a boy. I was happy being a girl. I just wanted to play football and that was the only way at the time. You were not allowed to play with boys. The FA didn't officially recognise girls and women's football back then so that was the only way to do it. Eventually it got a lot better and I found a team. I had great success in football which was brilliant. My dad was a boxer and my grandad ran the gym. I was in there from being six, seven years old and loved everything about it. Anyone who has been in a boxing gym knows they are pretty smelly. It's a very tough sport but for whatever reason I absolutely loved it. I got to the about the age of eleven and I said to grandad right, I'm ready to box. He said, oh you can't box kid. I said, what are you on about? He said it's illegal for girls. I did everything little lads did and assumed I would be able to box. I just couldn't believe it when I knew I couldn't. I had to kind of park that dream for a bit and went into football, which I don't regret. I had a fantastic time playing football.
I just wanted to join in with the football. I don't know why, I was just pulled towards it and got involved that way. So it started just playing in the playground with all my mates. Then I played for the primary school team. In my first game one of the other parents who was a coach, said 'that's a girl' she can't play. They made me leave the pitch. It was horrible. I went home and said to my mum, right cut my hair short.
Lee: I know you do a project called 'Pave The Way'. Could you share a little bit more about what that actually is? That is probably outside of your boxing at the moment, is that right?
Stacey: 'Pave The Way' started in 2017 the week after my debut. Initially I set it up for women's sport week. It was only meant to last a week. We just did a load of school visits and community sessions and so on. We did a photography exhibition of women who work in sport which is now on display at the Velodrome National Cycling Centre. It has grown and grown and took its own momentum. It's changed as well. Initially for that week, it was just about women in sport as it was women's sport week. Through the public speaking that I do and talks at various businesses and different industries it has become quite apparent, number one that this is not just an issue for women in sport. Its women in law, in tech, in engineering – it goes on and on. It's also important to talk about both genders because, I met a little boy last week who is seven and does ballet. He's frightened to tell anyone and is worried about going into lessons because of the stigma. There is a stigma faced by anyone who tries to go against gender stereotypes. It's a real shame because there are people with massive talent, or just a passion who are missing out because of this stigma. I think it's about time we just had a way to voice that and challenge it. That is what 'Pave The Way' is about, gender not being a barrier to human potential.
Lee: Now we're going to be talking about boxing. A question I want to ask is, what is it like when you are in the ring? What's going through your head and how do you maintain that composure and stillness to be in control of your shots?
Stacey: First thing is it can depend on who your opponent is. If you are comfortable and you are winning, what's going through your head is yes, I've got this one under my belt. However if you are in with someone who is heavy handed and punching your head in you are thinking something that, I probably shouldn't say on the radio! So it can depend on that. Generally speaking, going into the fight, I try and have two really basic tactics in my head; otherwise your head can get really really busy. Controlling your own mind is one of the biggest things to overcome in boxing really. It can be one of the biggest challenges.
Lee: Do you do anything like meditation to help control your mind. Do you do anything else to support your training?
Stacey: I don't meditate as such. I am a very hyperactive person with far too much energy. I don't think meditation would be helpful to me, I'd probably just get busier. I do have certain routines that help me prepare mentally, without a doubt. I think it's about finding what's right for you.
Lee: Are you able to share them, or is that a secret?
Stacey: No it's not a secret. Quite often up in the build-up to the fight, I might have one quote. For example when I was getting ready for the European Championships, it was a scary experience. I had only seventeen fights going into that. I was quite inexperienced and it was my first major tournament representing team GB. I have this quote, it's actually my phone cover which is 'if your dreams don't scare you, they're not big enough'. I had that with me all the time and next to my bed to remind myself when I was feeling those unbelievable nerves. It is like electricity running through your veins, that level of nerves. I reminded myself this is normal. I'm supposed to feel like this because I'm doing something mega. It really helped me rather than panicking about it. It really helped throughout the rounds through to the final.
Lee: What is it that you like about boxing?
Stacey: I love the personal challenge about boxing. The things I love about football and boxing is what separates them really. In football when you step on to the pitch and the whistle goes you are competing as one unit, as a whole team. What I like about boxing is the opposite. Although it's a massive team around you preparing you for the fight and getting you through the fight, and you can't do anything without your coach and the people around you, but essentially once the bell goes it is you in combat with the other person. Personal challenge is not like anything else in life and I love that.
Lee: I don't know enough about boxing. In terms of your style for those people who love boxing and who are listening, do you have a particular style that you follow, or that people would recognise?
Stacey: I fight a bit like my dad. My dad's favourite fighter was Roberto Duran. I tend to fight a bit like him partly because I'm built like him. I'm a short and stocky fighter. Longer, rangier, lankier fighters who have a longer reach might fight differently. For me, I'm better on the inside so I need to be close up to someone. I haven't got a long reach. I tend to have a high work rate and I am what we call a front foot fighter. Having said that in the commonwealth fight we had to change our tactic. I went on the back foot and was counterpunching a lot more, but that's because she was an absolute unit and hit really hard. It would have not been in my interest to go toe to toe with her for the full ten rounds. I had to get on my bike, come in, mix it a bit and get on the back foot again so we varied the tactics for that one, but generally speaking I'm a go forward fighter.
Lee: In terms of your boxing future how does that look at the moment? I know we were talking about wanting to go for another title fight, what are the plans?
Stacey: To be honest it's been one of the most difficult eighteen months. It's tested me to my limits physically, mentally and emotionally. I was on that most massive high of the commonwealth title; I went up in the rankings. There were loads of offers coming in to box here there and everywhere. Suddenly it was quite clear after that fight that there was a serious problem with my hand. I had torn a tendon off the knuckle in my left hand in that fight and I had to have that repaired. That was three months of no punching. I got through that and kept training one handed. It was going well, and in January of this year in training I got a knee injury which ultimately meant I had to have an operation on it. We tried to avoid it but I had to have it done in May. Things were going well, then I had another setback in August and I was back on crutches for a week. It's been really frustrating but now, touch wood, I sparred yesterday and I'm sparring on Saturday, so we've moved up to two spars this week. We've got a couple of big sparring days in January. All being well we can set a fight date. I'm hoping to have a couple of fights next year and then will be retiring
Lee: We had talked about you coming on to the radio last year. I had done all the research about you and you were looking at another fight. When you look at the industry, it's hard to get the sponsorship in terms of the business side of things in terms of a fight. How difficult is it to put fights together and get involved in terms of the business side of women's boxing?
Stacey: On small hall shows it is difficult regardless of gender. I think the added difficulty that we have is there is less exposure, there is a lack of acceptance of it. There's generally a lack of acceptance for boxing in some circles because people feel it is violent and dangerous and so on. Add the gender element to it, then it's even more so. On small hall shows it's difficult for males and females because these days you have to cover all the opponents' costs. For women that can be the hire cost. One because of supply and demand, there are fewer of them, so they can charge more. Also you are generally getting them from abroad. So you have flights, hotel and you have to give them a food allowance every day. It just adds up and up and up. Doing all of that with your own ticket money is very difficult, so you have to want to do it for more that the money, that's for sure. There has got to be a bigger purpose and for me there absolutely is. There's the personal challenge but also inspiring the next generation and paving the way for boys and girls coming through. If I can do that, it's worth more to me than the money anyway – you certainly have to have that bigger purpose.
Lee: So you touched on that boxing is very difficult from a female perspective. I know you are very passionate about women in sport. Could you tell us some of the work you have been doing around that please?
Stacey: We do a lot of school visits and we want to get that message out to kids as early as possible, that there shouldn't be stuff for boys and stuff for girls. If there is something that you are passionate about and you love and enjoy, you should be able to pursue it. I'm one of the ones who did face that stigma and has come through it. I have been able to achieve my dreams and most of my potential. I still didn't get to go to the Olympics despite qualifying for them because there are not equal weight categories for women. These are things that need to change. I didn't get a belt when I won the commonwealth title because there wasn't one for women at the time. Now there is. So it's the job of my generation of athletes to start improving things for the next generation just like people who came before us.
…there shouldn't be stuff for boys and stuff for girls. If there is something that you are passionate about and you love and enjoy, you should be able to pursue it.
Lee: What would you say to a girl of eleven, twelve listening who, likes sport but is unsure. What would you say to someone listening and what would be your message to them?
Stacey: I would just encourage them to have a go because sport enriches your life enormously. You have a readymade group of mates and you have something to give you self-esteem and purpose beyond Instagram and selfies. Not that there is anything wrong with those but if that is all there is, it's not really a good substance and foundation. You can find out a lot about yourself and build confidence. I see it in so many of the girls and boys whose parents bring them down to the gym to watch training, and join in sometimes. You can see the difference it makes in their confidence and wellbeing whether mentally or physically. It's a fantastic thing and it doesn't mean just because you don't enjoy it at school you won't like it. Sometimes it can be awkward at school, you've got to wear a certain PE kit and it's still very genderized. It's rugby, football and cricket for boys and netball, hockey and rounder's for girls. You might not like those ones so try something different, just like adults do. So it's about giving it a go and trying. Get some of your mates to do it with you. It's just a fantastic thing to have in your life if you can find something you enjoy.
Lee: No we are going talk about preparing for the fight. I'm always interested in modelling success. What do you need to go through to achieve the transformation? Who were you accountable to when you were training and what kept you going?
Stacey: I think there are various things and obviously your coach is a key component. If you have any respect for your coach you don't want to let them down, and you push yourself. It helps having team mates. My team mate Bradley Rae had his eighth fight at the weekend. He trains really hard and we push each other so that's important. Also you're accountable to yourself ultimately. It's me that has to get into the ring and if I'm not fit, it's me that's going to get beat up, so definitely the buck stops with me. For inspiration it's the amount of schools I go in to and the amount of kids I meet and that we have coming down to the gym. If I do everything I can it will pave the way and also let them know that they can do it too. That's a massive inspiration for me.
Lee: When you were planning out your training and looking at winning, did you ever think who do you need to become to win that title?
Stacey: I think the key thing is the consistency. It's about doing those things every single day. Getting up early and doing the early morning session, eating right throughout the day. Taking the right supplements, wearing your compression after having an ice bath. All those little bits add up, and committing to it one hundred percent. To be honest when you are getting ready for a fight, for me personally motivation is not difficult. It's the easiest thing in the world because I know on that set date, however many weeks away from now, I am going to be fighting and I want to win. I also know if people see rubbish men's fight, they'll say oh, that fight's rubbish. If they see rubbish women's fight they'll say, women's boxing is rubbish. There is a bigger pressure to prove ourselves. That's not necessarily fair but it's just true, and it's both a privilege and a responsibility that comes with it. I'm training hard to be the very best I can be all the time so I don't ever struggle with motivation. What is difficult is, times like the last eighteen months where I've been injured. When you keep getting these setbacks it pulls on your heart strings because it's interrupting you getting towards those dreams. That's when that consistency really kicks in and you have to know why you are doing it. I really believe in the statement that, if you know your why, you can endure almost anything. So I know my why and when the tough times come I can push through 'cos I know why I'm doing it.
I also know if people see rubbish men's fight, they'll say oh, that fight's rubbish. If they see rubbish women's fight they'll say, women's boxing is rubbish. There is a bigger pressure to prove ourselves. That's not necessarily fair but it's just true, and it's both a privilege and a responsibility that comes with it.
Lee: That is the question around beliefs. The beliefs generally are the glue that holds our whole world together are our best current thinking. What did you have to believe in order to get you to winning? If you look back over the last eighteen months where that's been a challenge – what have you had to believe then?
Stacey: Like I say, it's that set of why's. I love winning. In that few seconds when my hand was raised in Zimbabwe I knew I'd made history and made everyone proud. I had justified all that work that I'd put in and inspired loads of people who were watching. Even though it's been such a difficult eighteen months, it's worth it for me to even have another shot of having that feeling again. I know what that feeling is like. That's definitely something that can motivate you. I think there are different stages of belief that you go through like at the Europeans. It was believing that I deserved to be there because I'd always had a bit of a thing that, do I really deserve to be here?
Lee: How did you put yourself into – I do deserve. Some people don't believe they deserve things and that can mean lower self- esteem and lower confidence. How did you manage, yes I do deserve to win that?
Stacey: I had help from a sports psychologist. He is Chris Marshall and is the GB Boxing sport psychologist and he definitely helped. I also think it was time. This had come from way back when I was a sixteen year old kid. I got my first England call up and the feeling when you get that letter with the three lions on it just blows your mind. I was so excited. I went to my boss at the time and said, I need a week off, and he said what do you need a week off for? I showed him this letter and I was almost floating. He didn't say much and then he said, you want me to give you a week off to go and play for a women's football team? I'm like, well it is the England women's team. He laughed said all these jokes. I said, can I take unpaid because it means a lot to me? He said, well if you must. I left that office feeling really small and almost ashamed of who I was. I thought what an idiot thinking it's such a bit deal to play for the England women's football team. I didn't tell any of my colleagues, I didn't tell anyone. Things like that impacted me and I used to think I don't deserve to be here. It went on and on and it plagued me I'd say for years. The first day when I met my sports psychologist he asked what I wanted to talk about. I said I want to talk about how, this can be the first time I can have a great sporting experience that I feel like I deserve. He helped me get there.
Lee: Any techniques or tools you can share that he did with you?
Stacey: Yeah, I went on a lot of walks before fights and it certainly helped with belief. He said you are not being asked to do anything you can't do and it's about putting it into perspective. It can get well out of shape in your mind. I was at a tournament in Serbia and you are always guessing who's your weight before the draw. There was this woman I saw in a Serbia top and I was saying to my mates she looks nails. They said yeah I bet she's your weight and by the next day shed got bigger and bigger in my mind. I got down to breakfast and she was one of the canteen staff and she was serving breakfast. I thought, thank god! I also realised how ridiculous that I'd been worried all night about this person who wasn't even my opponent. That's what can happen in your mind, it can trick you. So embrace those nerves, don't fight them, accept they are there and park them. You get these negative self-talks in your head whatever they may be, about your opponent or about yourself. Imagine putting them in a car and go and park up and just say I know you are trying to help me (it's your brains job; your brain isn't meant to go lets fight another human being in front of everyone and risk humiliation and being beaten up) you have to say this isn't helpful . I've got a job to do so I'm just going put you in this parking space for now, while I go and win. You do need that protective aspect of your brain, but it's not helpful if it's trying to talk you out of fighting when you've got to go out there and get a win. So there are loads of techniques that will work for different people.
Lee: A lot of people suffer from judging themselves and putting themselves down. How did you manage that?
Stacey: Part of it is one, realising you are not the only person. Even the most successful people in the world have self- doubts. Also being able to name it and label it and understand what imposter syndrome is. If you said to most people, have you ever had imposter syndrome, most would say, what's that? When you explain what it is they will say, oh yes I've had that loads of times. I've had that when I've done public speaking. I was just a regular kid from Manchester who's a boxer and the next minute I'm at the United Nations addressing ambassadors from different countries. There really is a part of your brain that says, what are you doing here? But at the end of the day it's my lived experience and it's authentic and powerful in that sense. It's not using graphs and statistics. It's heart on my sleeve, that is my story coming through and that's the truth of it. We've all got something to offer and eventually, hopefully you can realise the value that you've got to bring. By not doing that we don't allow other people to shine and share their stories and use their voices. If we think about the people who inspired us, and we all have different inspirations, but if they hadn't have done what they have, we wouldn't have benefited from it and that's a reason to do it. There is that saying 'you can choose courage or you can choose comfort but you can't have both'. When you step into whatever arena it is whether it's a boxing arena or you doing this show, the bigger the arena gets, the more people are sat in the stands. They might be shouting things, throwing things at you but, you know what you're in the arena. I'd always choose things being thrown at and shouting in the stands and live in courage than to sit in comfort and not have done anything.
Lee: Thank you very much for coming in Stacey. New Year plans, have you any resolutions looking forward?
Stacey: I don't really have New Year resolutions to be honest. I'm going on holiday to Madeira so I'm looking forward to that with my boyfriend. They have the most amazing New Year's Eve fireworks ever. I've already signed up to a gym there for the week so I will carry on my training. Next year is very much about getting my training on track and trying to secure the world title fight and that will be a dream come true for me really.
Lee: So when you've won that come back into the studio and tell us all about it. I wish you all the best for the future.
Stacey: Thanks for having me and everything that you do. I think it's brilliant what you are doing for young people, for the city and for radio and opportunities in general. Thanks very much.
Lee: Thank you very much Stacey Copeland.
To find out more about Stacey and \"Pave the Way\" you can visit her website –
https://www.stacey-copeland.co.uk/
Or you can follow Stacey on Social Media – Twitter @scopelandboxer | Insta @staceycopelandboxer
Article Transcription by Terry Capostagno
GET IN TOUCH
Take your first steps to Achieving Excellence with Logros. Call or email us for more details.
Complete and we will keep you updated with the latest edition of the "The Logros".
It is not a question of what are you going to do just simply who do you want to be
Lee Dinsdale